16 Oct 2007, Heading South, at Last, 37 32.745 N/ 076 19.800 W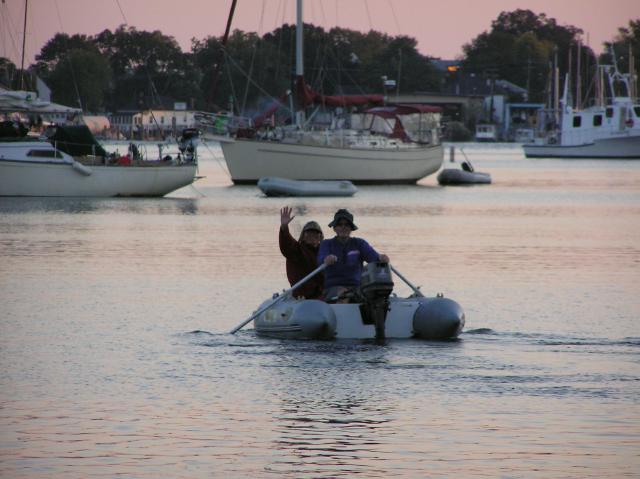 We left Rockhold Creek at high tide (0655) and had no difficulty passing through the narrows between the breakwaters. Wind was light but had enough to motorsail down to Solomon's Island area where we anchored in Mill Creek at 1310. As it was early, there was plenty of room to anchor. However, it filled up rather quickly and other vessels anchored quite close. One told us that we would all swing together. Bob was not convinced. Wolfgang and Denise came to visit in their dinghy then headed for town. We were lazy and decided to stay on board. Later, we saw them paddling back. Wolfgang had been complaining of 'outboarder problems' and the motor finally quit. Glad we had our motor recently overhauled.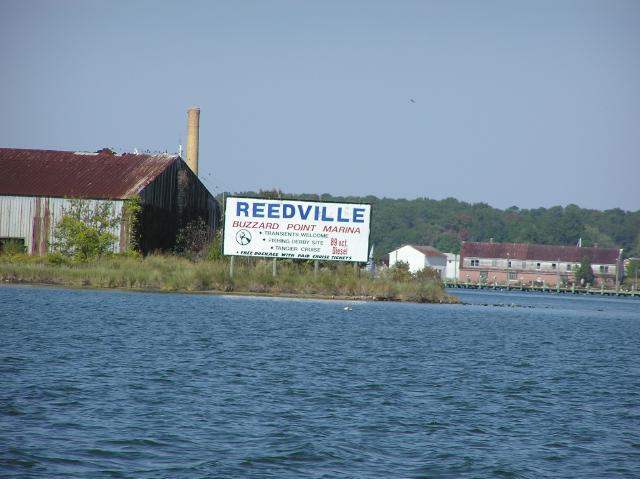 Anchors up at 0655 and headed for Reedville. Not much wind so it was a motoring type of day. We arrived at the fork in Cockrell Creek at 1500 and anchored off of the Crazy Crab restaurant. As Moony's motor was still being difficult, we decided to use Jule's dinghy. We started up our outboard and headed for Moony. Sputter, sputter, dead! Not again!! Many eveil thoughts went through Bob's brain. After he calmed down, we rowed to the restaurant. We would try to fix the motor when we get to Deltaville. Restaurant was nice with good food and friendly people. But we lost too much time so we could not explore Reedville.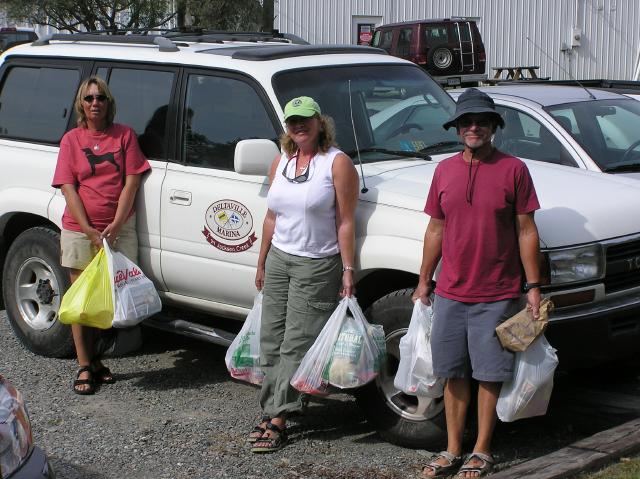 Next day, we left at 0700 headed for Deltaville. This day, we could actually sail but were were lazy and did not raise the mizzen. Big mistake. Moony quickly pulled away from us until the wind died and then we both resumed our motoring duties . We arrived at Jackson Creek and anchored on the western branch of the creek. Not the best location, as we were somewhat exposed to SE winds. Bob had some time so he took the Yamaha apart. He discovered that there was still some corrosion in the carburettor that would cause the needle valve to stick. Cleaned it up, but it together, and we had a dinghy motor again. The next day we went to shore and paid the $10.00/person dinghy dock tax. We wanted to use their bicycles and showers. This time they had a courtesy car with a two hour time limit. Of course we used it to provision and window shop at West Marine. As in times past, we stopped at Taylor's restaurant for a quick lunch.
---
Page 1 Page 2 Page 3 Page 4 Page 5