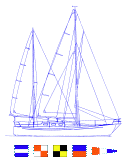 We were pretty much successful in marrying cruising and work for nearly two decades. In 2013, we shed our last large engagement (which began in 1993) and we have only one project left; a fun one, which we have been doing since 1985. The following paragraphs describe our original goals set back in 1995.
-----

Simply put: we want our cake and eat it too! We own and operate a very small business (Advanced Research Corporation) that specializes in Information Security. We own a small house on wooded acreage near Washington DC. We have a burning desire to build a business that is compatible with the boating community. And we like to cruise the East Coast and the Caribbean. We do not want to sell our house (it's home), we do not want to give up our business (we enjoy it and we have an impact) and we don't want to merely daysail.

Hmmm! How can we do this? Well, we tried an experiment called Voyage 2000. The experiment attempted to answer the following questions:
Are we like other cruisers?
Can we satisfy current (and hopefully future) customer commitments while cruising?
Can we expand our business into the boatyard; cruising community?
Can we take care of the house and the boat?
Can we maintain our family commitments?
Can we pay for all of this?
We attempted to affirm our conclusions with Voyage 2002. (We were on the 'hard' in 2001 due to deck problems.)

Are we like other cruisers?
Probably not? The majority of the cruisers we met were retired. They were old, young, and in the middle. The majority of the retired cruisers did not have land-based dwellings. None of the retired were conducting business, most had family commitments, and some of the younger cruisers are concerned with the current financial downturn. The few non-retirees we met dealt in real estate or cutlery. In all cases, their business duties were minimal.

However, most cruisers were careful with their money as their cruising kiddy was limited. We still have income from our business which makes us lazy at times (marinas vs anchoring; contract work rather than do it yourself). However, we are getting better at conserving!
Can we satisfy customer commitments?
Absolutely! Jule III has the necessary communications and computer resources to access our customers worldwide. We proved it on the Intracoastal Waterway (ICW), in the Florida Keys, in the Dry Tortugas, and the Bahamas. We conducted system development, computer forensics, and marketing (all in secure fashion). For 9 months of the year, our boat is our office!

However, Voyage 2002 indicated that Levi and Gina (our canine companions) were not dedicated cruisers. So, we are cruising only every other year. During our cruising year, we stick the dogs with our younger son. Good younger son!
Can we expand our business in the boatyard and cruising communities?
The jury is out! We are making some inroads in the boatyard business. We are providing consulting services on shipboard computing and communications. We are offering photographs, videos, and publications to the cruising journals. Not much is happening yet.

After Voyage 2002, we had some success in penetrating the boat yard market. Bob is a guru in computer networking and security. He is supporting many of the on-site contractors at our boat yard. He already has all of his FCC licenses and soon will receive his ABYC certification. It is looking up!
Can we take care of the house and the boat?
The jury is out here also. Our younger son managed the house and the dogs and the cat during Voyage 2000. However, he is moving to another state. We are conducting exercises to ensure that we can take our pets on the next cruise (our boat is not pet friendly and our pets are not boat friendly). The house endures but protests. Frequent trips back home and petitioning our sons to monitor the homestead will be in order.

Voyage 2002 indicated that this was going to be a problem area. Our dirt dwelling did not fair too well. Much of our grass was dead (our leaf racker didn't), cleaning didn't get done ... bottom line, our house was tuckered. We are working on this one.
Can we maintain our family commitments?
Of course! This is really the primary requirement. If we can't do this then we don't go cruising! Bob's mother is XX (can't tell her age) and is doing fine but we want to be in contact. Our older son and his wife made us grandparents in April 2002. We were there.

During Voyage 2002, Bob's mom was diagnosed with cancer. We rushed home for the vigil. Fortunately, we had not left Florida for the Bahamas.
Can we pay for this?
Probably. We got a couple of unexpected high cost maintenance items on the boat (e.g.,our teak deck died, some rot in the core, many cosmetic things) and our house will need attention in the next couple of years. Our land-based and maritime business is doing well. Our retirement fund has been impacted somewhat by 9-11 but we are doing better than most.
The Rest of the Story
We are changing our plans for the near term as Bob had a little heart problem in 2004 which delayed one of our trips for over a year. Recently, We had several new grandbabies... need I say more. Our other 'kids', Levi, Gina, and Sammantha Jane (two dogs and a cat) are not getting any younger and are less agreeable to long boat trips. So, we are changing our plans. We are delaying any long voyages until the other 'kids' 'go to college' in favor of trips in the Chesapeake, and coastal Carolina. We ae readying Jule III for substantial travel in the 2009-2015 timeframe. Too much going on with too little time.
The New Direction FONT>
Well, it has worked out pretty well for us for over a decade but it will soon be time to close up shop and spend more time for cruising, family, and community; and less time worrying about work. The workplace has some really sharp players and this player is getting old; harder to do two things at once. But we will see.