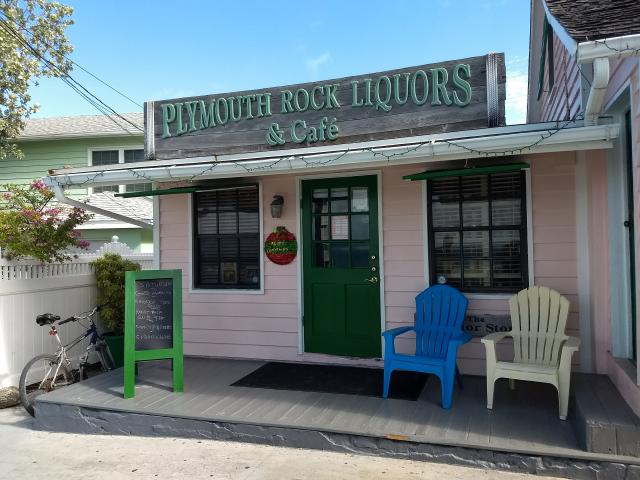 We promised ourselves that we would not eat out so much but New Plymouth settlement had so many good eateries. One of our favorites was the New Plymouth Liquor Store, where Cori, Barbara, and Aaliyah served us six days a week. Best chicken souse in town! In addition, the Liquor Store was the starting point for the Cruiser's Happy hour. Much fun!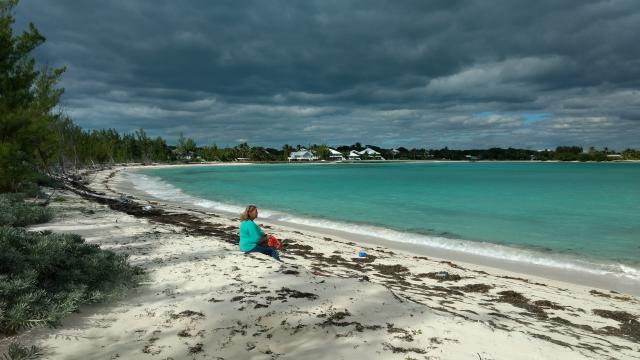 We did lots of walking and Gillam Bay was one of our frequent destinations. We had great views of Pelican and No Name Cays but not much treasure (coral, sea glass, sea beans, etc.) We would have to explore other beaches for that.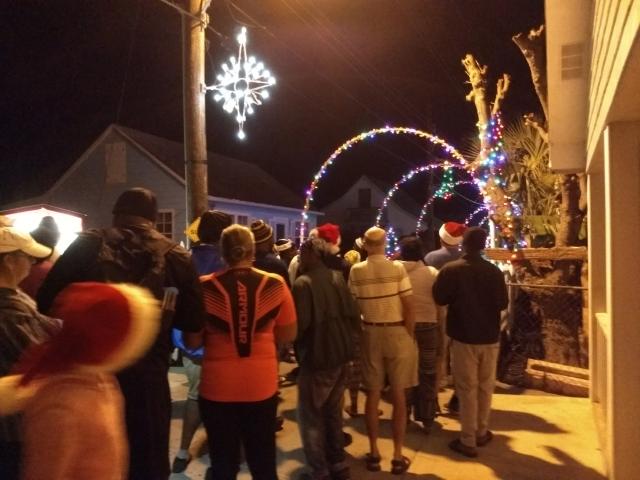 New Plymouth has a tradition of caroling through the streets at five in the morning; carols accompanied by cow bells and drums. Cruisers and visitors are invited to participate and we did; twice.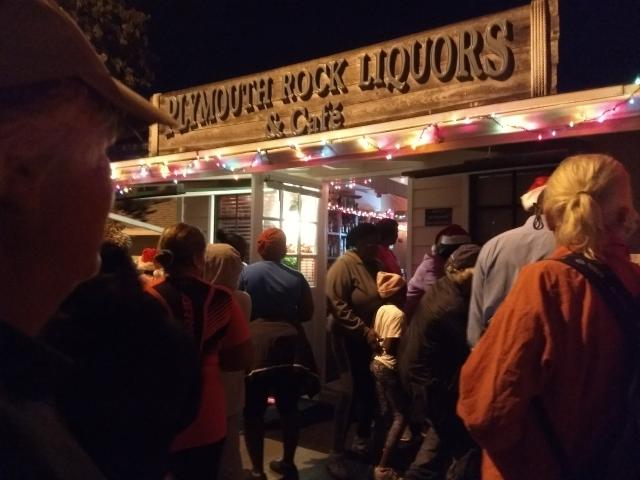 On the Friday before Christmas, the caroling parade stopped at the Liquor Store for the final hurrah. Dave of the LS provided free hot breakfasts for all participants, including us. Everybody was glad to see the final caroling event as that meant that Christmas was nearby.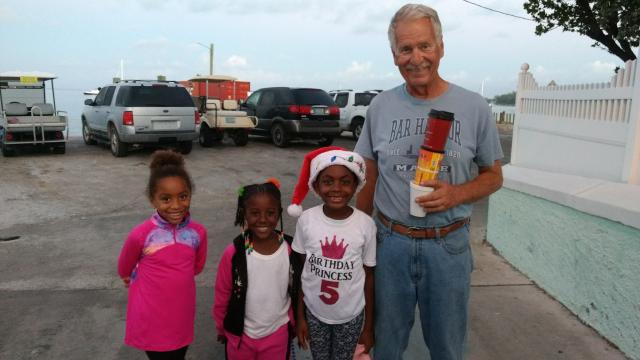 We met a couple of new friends at the end. They wanted to take pictures with us. Our crowd started with 6 but slowly dwindled down to the three here. Soon they had to leave to head back home.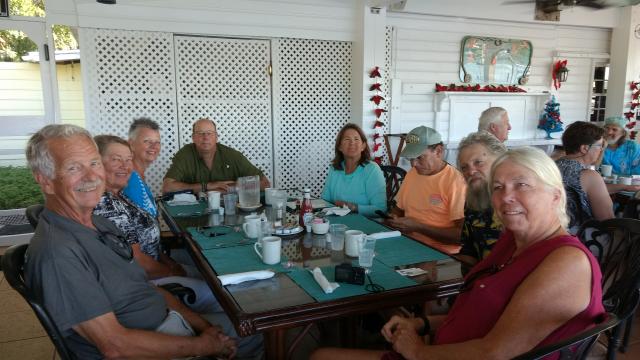 Christmas Eve morning saw a Cruiser's breakfast at Green Turtle Cay Club in White Sound. We rented a golf cart because it was 3 miles away. Over 50 people were in attendance. Many thanks to SV Te Amore for organizing the event.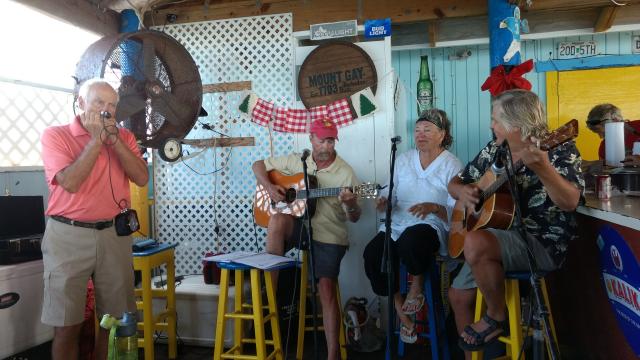 Christmas Day was a bit sad since we were missing our family and friends. But, ..., no matter where you are, cruisers have a way to have a get-together. This day was no exception. We attended a pot luck at Sundowners, another restaurant/bar on the island. The restaurant was closed but Brian was kind enough to let over 100 cruisers use it. Great time, great food, great music.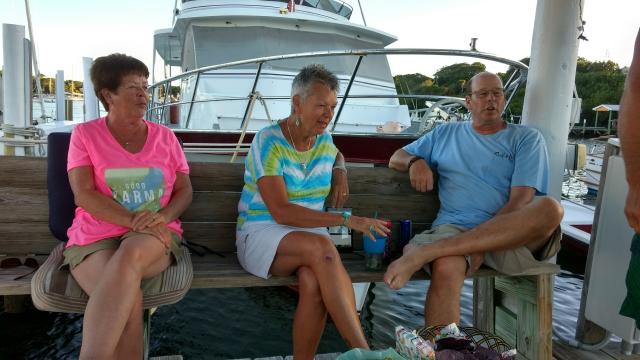 Black Sound Marina, our home in GTC, is a very inviting marina. Mikey, the dockmaster is the best! He took very good care of us during our extended stay. We even had happy hours with fellow cruisers under the roof of the marina's shelter. Fun times!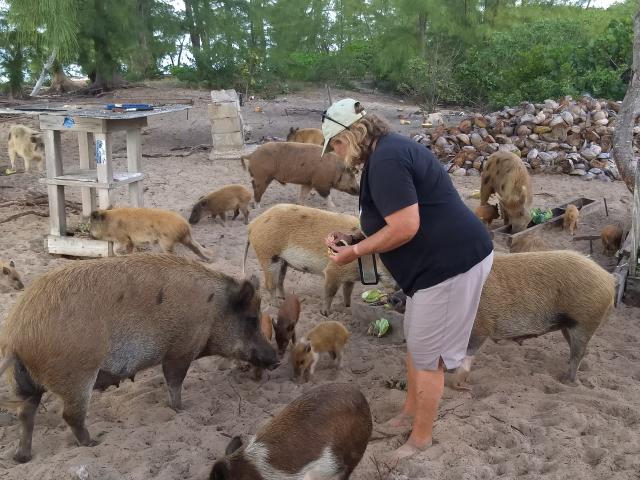 Our closest island is called No Name Cay which is the home of Piggyville. Piggyville is a home of wild pigs, cared for by a few dedicated folks from GTC. Craig is the 'mayor' of PV. Bob and Ann volunteered a few times to help feed the critters. Only Thomas had a few anger management problems.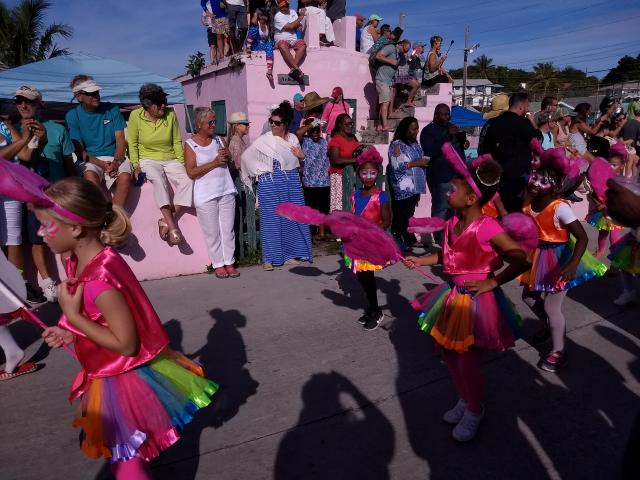 Originally, we were only going to stay at GTC for a week but we heard that Junkanoo was happening on 1 January. We had to see it! Junkanoo is a local and country celebration where the locals make beautiful costumes celebrating the area's and country's heritage. There were over 1,000 folks in attendance from all over the Abacos. Lots of colors, fun, food, and drink. It was our first Junkanoo.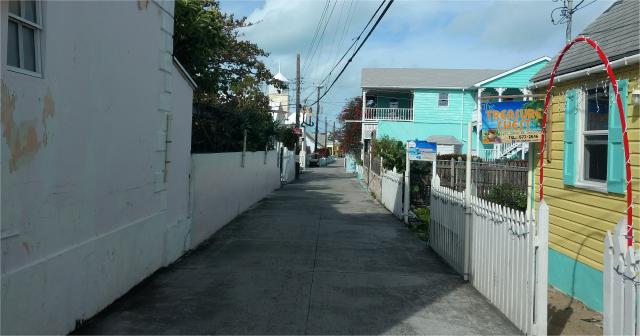 After the 1st, we were exhausted! So was the town. We both got to rest as both of our paces slowed a bunch. The streets were now nearly empty, the children would soon go back to school, we would go back to our walking and talking. Nice new pace.
---