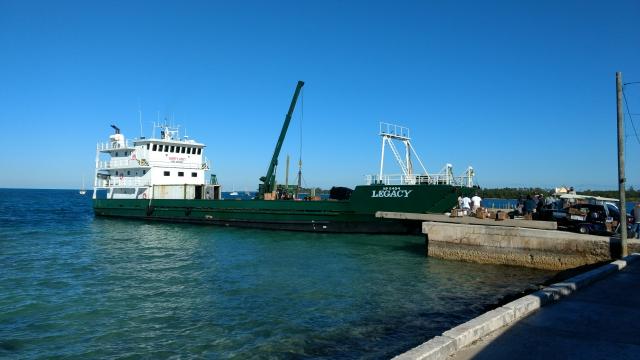 MV Legacy ties up at the Government Dock every Thursday (weather permitting) and brings supplies for the island from Marsh Harbour and beyond. It is quite interesting to see the operation of unloading the boat and the folks moving it to their homes and businesses. The whole operation takes less than 3 hours. On Fridays, fresh produces is trucked in from Marsh Harbour and ferried in via the Bollo ferries. A lot of work but fun to watch.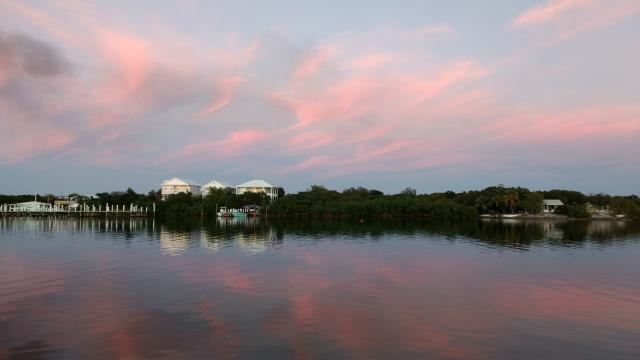 On 13 January at high tide (early in the morning), we left Black Sound and said "see you soon" to New Plymouth as we slowly motor sailed to the "Whale". We passed by Pelican Cay and Non Name Cay as well as Gillam Bay. You may remember that No Name Cay is the home of Piggyville and the Pig Whisperer. There were not any visitors when we passed by.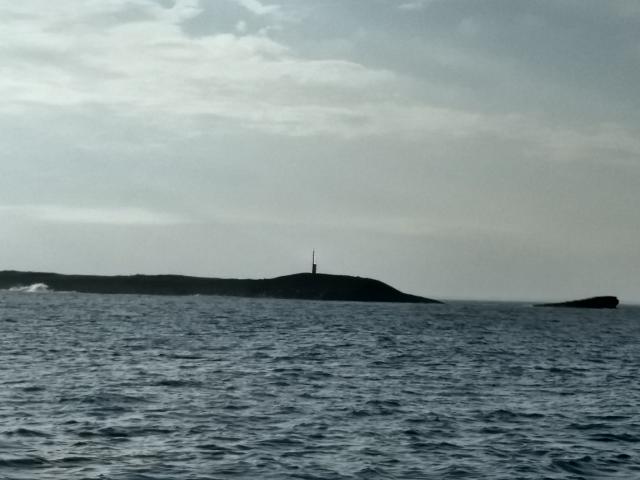 We were newbies to the Whale. Many days it is a pleasant transit out Whale Cay Channel, across the Atlantic side of the Cay, and back into the Sea of Abaco via Loggerhead Channel. However, when the wind pipes up and/or there is a serious storm somewhere in the western North Atlantic, the Whale may be impassible! Today was the pleasant one.
Marsh Harbour was our first destination. We had been there several years before. It was an OK stop then but a little disappointing now. Less cruisers and more charters. Lots more charters originating here. Our stay at the marina was exciting but not pleasant. Enough said.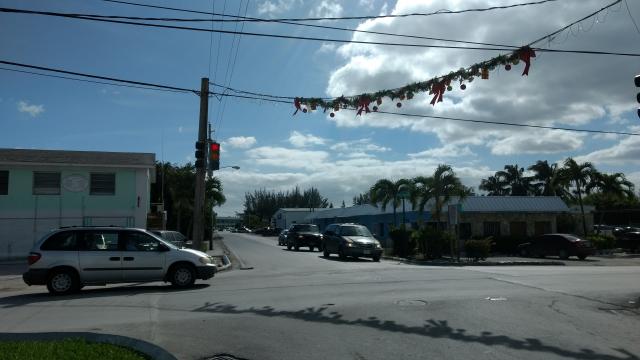 The town is a little worn out. Lots of vacant store fronts, trash on the street, poor roads, and big town attitudes. However, they have a great supermarket, reasonable booze-a-terias, and some really fine restaurants The picture to the right is the one and only traffic light in downtown Marsh Harbour.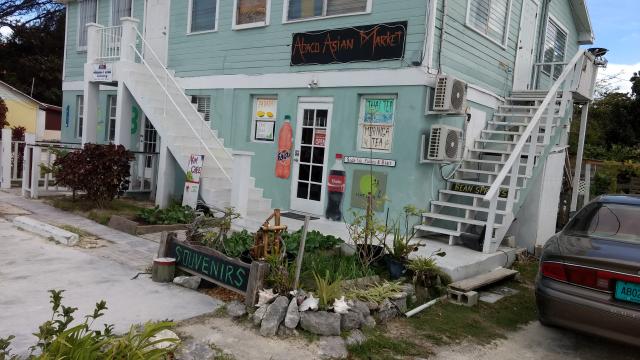 A new store recently opened several blocks from the traffic light. It is the Asian Market that has all sorts of prepared exotic meals and ingredients. Johnny Cash (real name) helps run the place with his wife. He is a wealth of information on all things Abaco and is also a local artist. A must stop place if you ever cruise to Marsh Harbour. Another great place is Wally's Restaurant with great food and great atmosphere.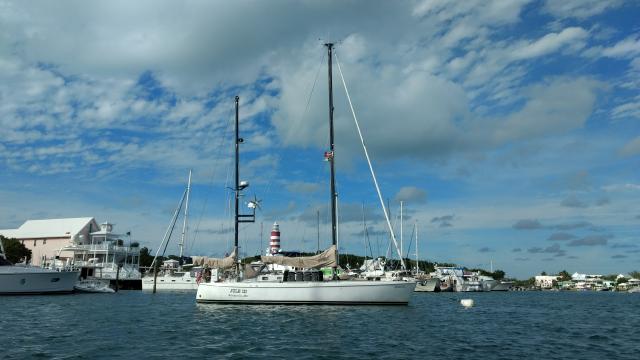 We left MHH on the morning of the 19th of January with a new destination of Hope Town on Elbow Cay. We were a bit nervous heading there with its controlling depth of less than 5 feet at low tide and virtually no markers in the shallow approach to the channel. High tide is our friend and we used it to our advantage. We got a great mooring ball near the marina. We soon discovered that the marina had a launch that would pick us up and take us places. Not bad.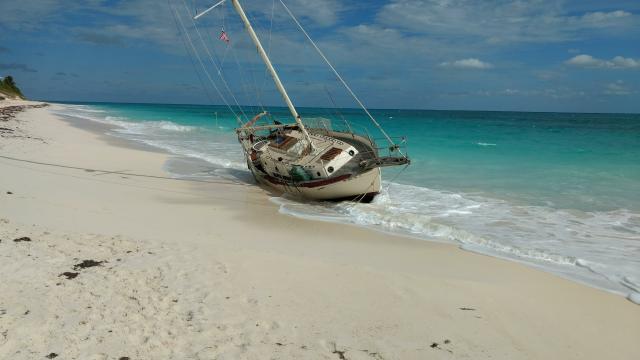 In GTC, we read a news report about a beached sailboat, SV Ellipsis, on the Atlantic side of Elbow Cay. Our first walk on the beach at Hope Town made the news a reality. The Ellipsis was a 32' Westsail that became disabled due to abandoned fishing lines. The reefs and the beach caused the end of the Ellipsis. Sad.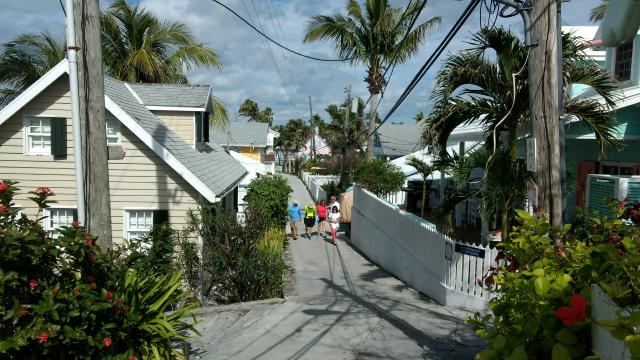 The streets of Hope Town are much like GTC but unlike Green Turtle, this town is directed to tourists and visitors. The locals are friendly, the shops are well stocked with nice stuff, and the restaurants are well priced with regional, Bahamian, and American cuisine. The only downside to Hope Town is that is not the best place for provisioning. Grocery stores, hardware stores and chandleries are not well stocked. Still it is a great place to visit.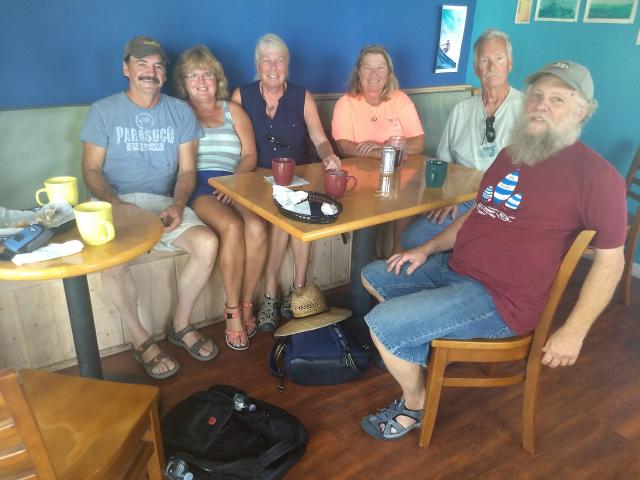 We met some cruising buddies from GTC here in Hope Town. The crews of Sandy's Way (Jon and Sandy) and Modaki (Joe an Yvonne) had just arrived in town and we were about ready head back to Green Turtle. Still we had enough time for a quick cup of coffee. Good times with these guys. Hope to see them next year in Black Sound. But now it is time to head back through the Whale.
---