11 Aug 2022, Our First Baltic Cruise with SV (Blue) Booby, 54 51.133 N/ 010 31.648 E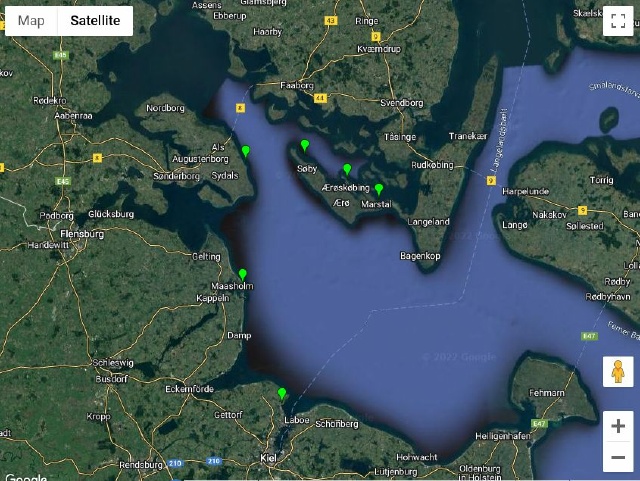 This was the first big boy trip where I ventured without Miss Ann. Chris drove me to IAD where I caught a very nice SAS widebody Airbus to Copenhagen, DK and then a 'puddle jumper' to Hamburg, DL. It was the first time that I have seen Wolfgang and Denise since our first trip to Nova Scotia. We shook and hugged like it was yesterday. They took me to their apartment at Schilksee, a 'suburb' of Kiel. Their place was full of books, plants, and pictures of their voyages. My bedroom had pictures of their cruises through New Your Harbor. We visited their garden plot which was a 20 minute walk from their home. We went to the garden several times, both before and after the trip to Denmark. In the garden, Wolfgang raised mostly vegetables while Denise grew mostly flowers. They had a small cabin on the property and a smaller storage shed. Very quiet and peaceful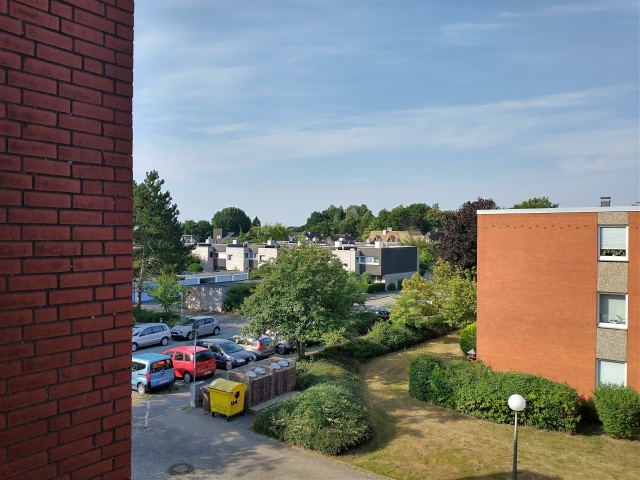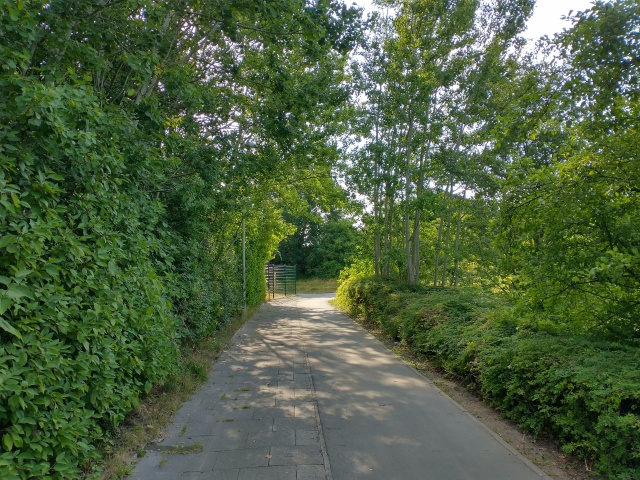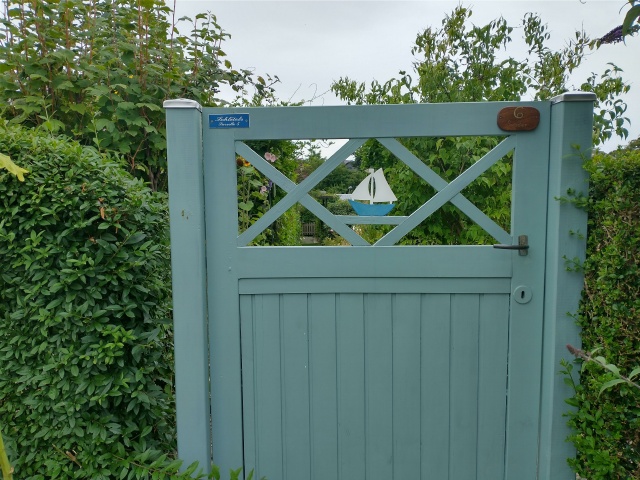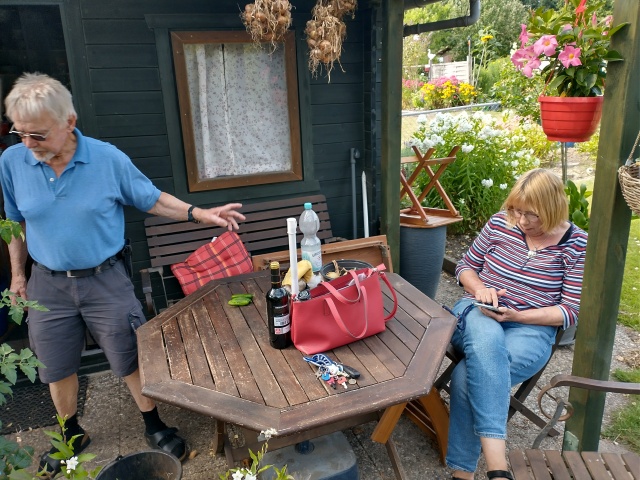 (2 Aug '22)On Tuesday, we headed for the Schilksee Marina, which was built 50 years ago for the Summer Olympics. There were boats everywhere; small boats and smaller boats. SV Booby is in a typical tight slip (or box) where I could not imagine I could get out or in. The Nav Aid colors are reversed East of Greenwich but the shapes are not. So coming into a port would have green markers but would be cone or triangular in shape. They use the Cardinal buoyage system a lot more than we see in North America. Our first stop was the town of Marstal on the island of Ærø. The town had some tourist interests but was mostly a working town that attracts Danish and German cruisers. The language is very difficult to pronounce (and to print on the web). As good tourists and cruisers, we visited a restaurant and a grocery store. Denise was kind enough to find me some box wine. Silly American. We renewed a tradition of toasting each dinner's drink to each other then lifting our glasses to heaven and toasting Miss Ann. Next day we were off to the next town on the island.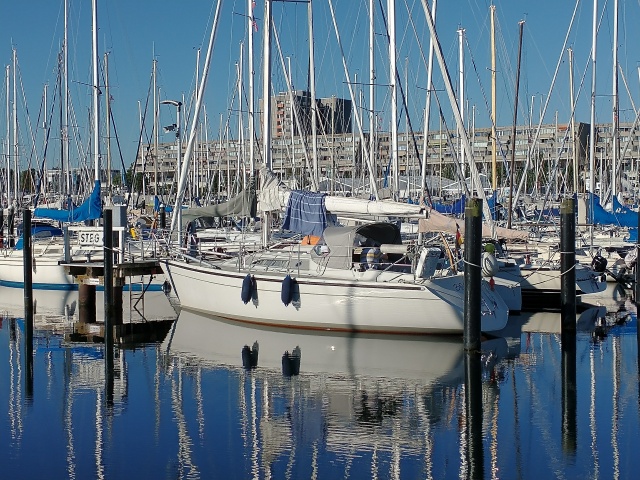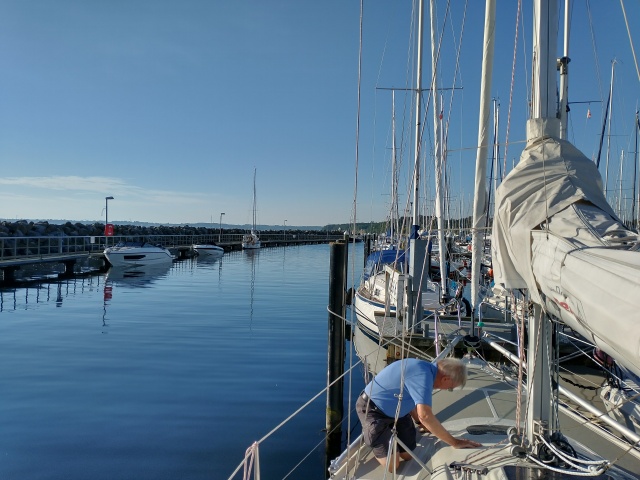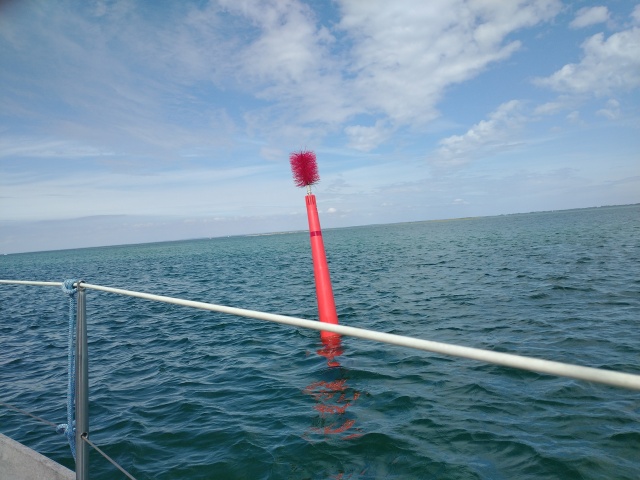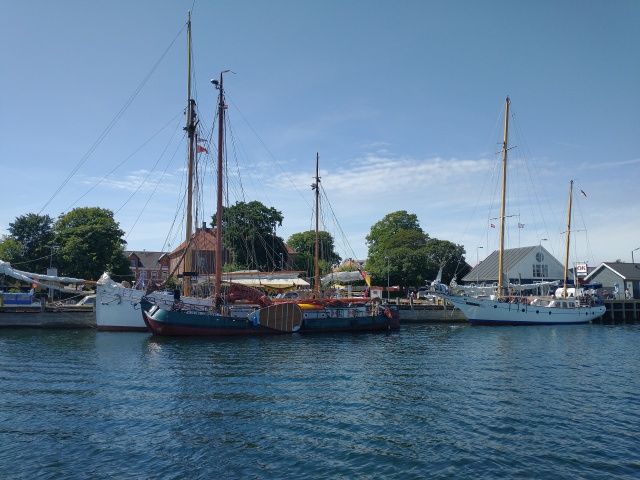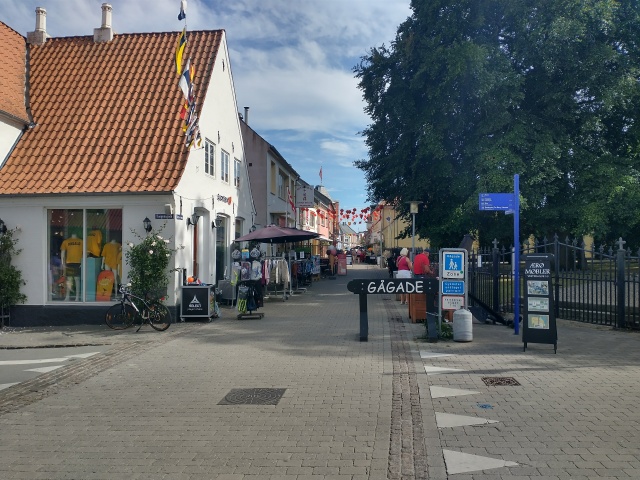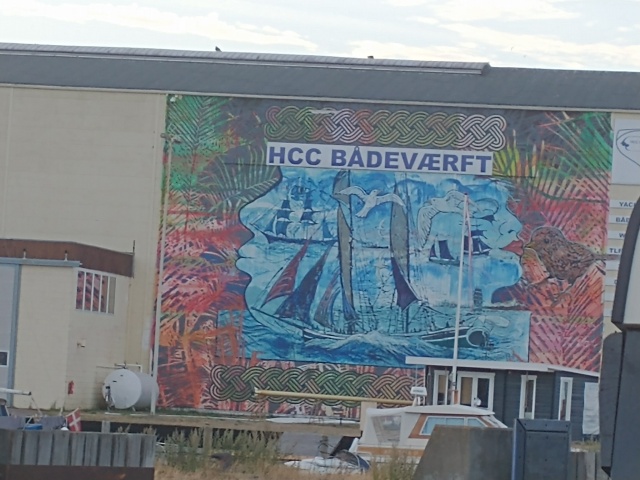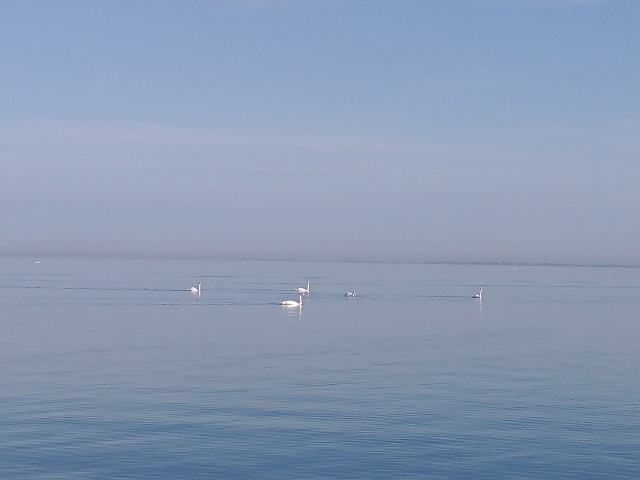 ---
3 Aug 2022, Up to Ærøskøbing, 54 53.607 N/ 010 24.672 E

Now we head for Ærøskøbing
, which is less than 20 nmi away. Summer weather here is not much like that of our Chesapeake. The sky changes routinely from clear to cloudy to partly cloudy most days; the prevalent wind is light from the SE; sea states are routinely less than Force 3. Yet we sailed most of the time and averaged 4-5 kts. The harbor Ærøskøbing has a relatively large marina that is divided into commercial and private vessel areas. The marinas routinely overflow with vessels in the mid to late afternoon. Our daily distance is small so we normally will get in late in the morning. The town has a sizable tourist base but still caters to the regional population and their agriculture interests. Of course we checked out the town, especially restaurants and grocery stores. The stores reminded me of what I would find in the rural communities of the Chesapeake. We visited a magnificent, old Danish Lutheran church, the Ærøskøbing Kirke, which was built in the early 1700's. I believe it is still in active use. The little signage that was available was in Danish so we did not know much about the church. However, I googled it before I wrote this section.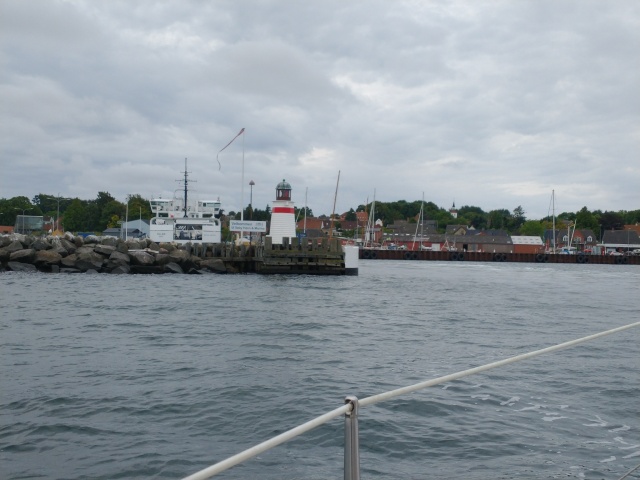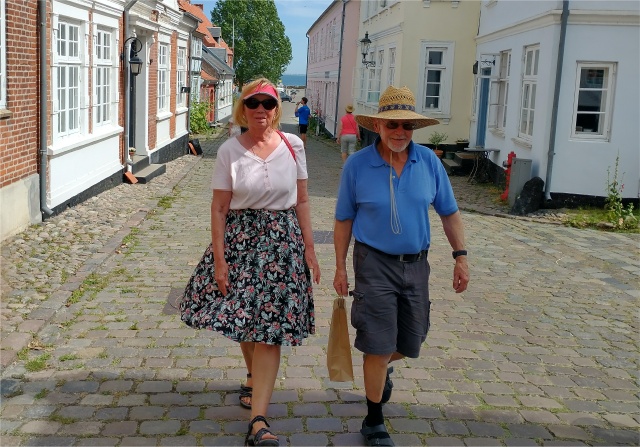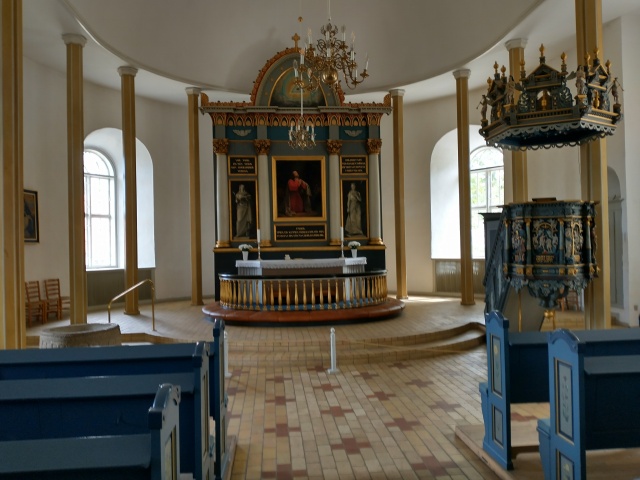 Ærøskøbing is a ferry hub of sorts. We saw one of larger ferries coming into the commercial harbor while its bow was opening like a shark's mouth. It was really a sight to see. The town was having a musical festival, so there outdoor stands selling beer, wine, sausages, and other goodies. We all got a local beer and took a break from our almost non-stop walking.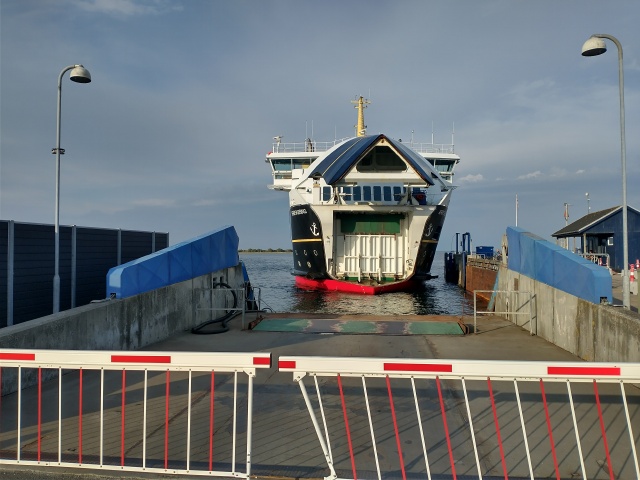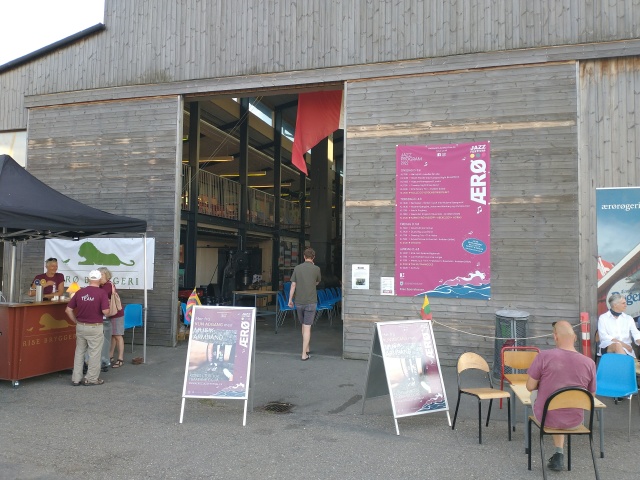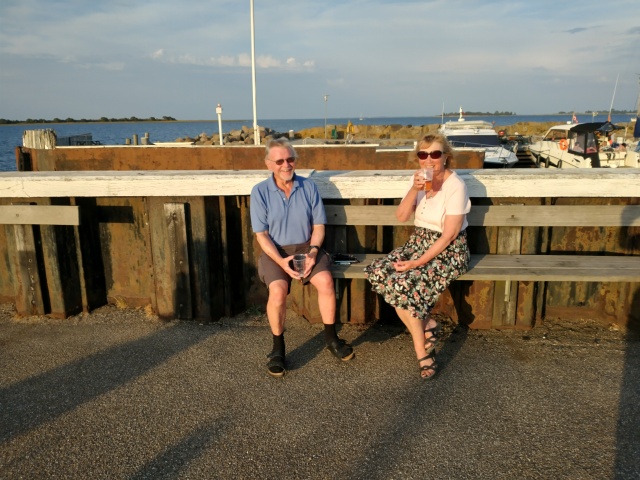 ---
Page 1 Page 2 Page 3 Page 4 Page 5