---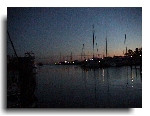 Voyage 2000 began at 0600 on a cool October morning. We had the diesel heater running, mooring lines loosened, and waiting for enough light in the eastern sky to leave the channel of Herrington Harbour (South). We were somewhat apprehensive as this was the beginning of our 6 month trip. Were we prepared for the trip? Would storms sweep us away? How many times would we go aground? Would we have jobs when we get back? Would we get back? Would we want to go back.....?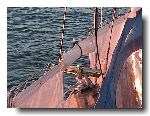 We mounted our saluting canon on the starboard genoa winch to signal the beginning of the voyage. We wanted to wait until we arrived at Green "1" so that we would not disturb the Rose Haven community. At the height of our ceremony, Bob noticed black smoke billowing from the cabin. Yep, the diesel heater had blown out. So, we fired the canon and then rushed into the cabin to clean up the mess.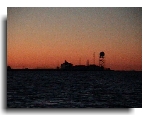 First day's destination was Reedsville, VA. We tried sailing there, but the winds evaporated by 1300. We finally reverted to the diesel but Reedsville was now out of the question. OK, we decided to anchor at Point Lookout, Potomac River. Not the greatest place, but the wind was not blowing (yet!). We set the anchor alarm on the GPS as the chart indicated the holding was not great.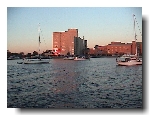 The next morning, the wind was blowing 20-25 kts out of the NW with a 30 mile fetch down the river. It turned out to be the roughest sailing we encountered during the 6 month passage! It took us 4 hours to pass Smith Pt light (a distance of less than 8 miles). Back in the Bay, we were screaming towards Mobjack Bay under jib and mizzen. At 1300, the wind died again. Engine was started and we arrived at East River in the Mobjack after dark. Up at 0600, we arrived at Hospital Point, Portsmouth VA at 1500. Are we having fun yet???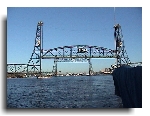 We began our first transit of the ICW with bridges and shallow water on 2 November '01. We weighed anchor at 0730 leaving Hospital Point heading South. We decided to take the Virginia Cut route and save the Dismal Swamp option for the return trip. At 0800 we passed under our first lift bridge (Jordan Lift Bridge). Jule III had to be navigated through a gauntlet of bridges and locks. If we missed a bridge schedule, we could not finish the gauntlet in the daylight. We were all very anxious and a little nervous but all went well.