---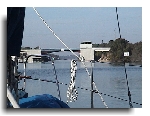 Our float plan from Port Canaveral to Key West involved the ICW to Fort Pierce. Thereafter, we planned to sail on the 'outside' to Hawk Channel to Key West. We transited the barge canal with its locks and two bridge complexes with little difficulty. This leg reminded me of my late father as we would often 'do' the barge canal when we visited the folks at Merritt Island. The entrance to the ICW from the canal was dicey as there were many shoals and not much water.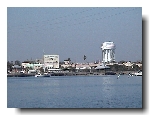 Soon we passed by Cocoa Village with the water tower with a painted USA flag. Whitley's Marina (another Dad memory) was trying to rebuild their marina after the 1999 hurricanes. The Save the Manatee Club (SMC) had other ideas. After 2 years of legal battles to rebuild their marina, they finally gave up. It is sad to see a seemingly benevolent society using every trick in their bag to break the back of the small marina owner. Condominiums and private slips will replace Whitley's Marina. No reduction in boats. Good going SMC!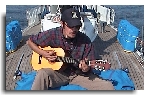 First Mate Toby bought a guitar at a pawn shop in Port Canaveral. Big mistake! He belongs to the Pie Tasters (a SKA band) where he plays a trumpet. When you play a trumpet, you can't sing. When you play a guitar, you can sing. He did. Big mistake! In the course of the trip, Ann had murder in her eyes many times. We made him play and sing on the foredeck (see video section).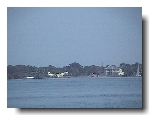 On the southern tip of Merritt Island (where the Indian River Lagoon and the Banana River meet) is a dragon. This dragon was a playhouse for children long grown up. Though there is a great anchorage around the dragon, we chose to continue to Melbourne. There are several marinas in the area (fairly shallow) where at least one is decidedly doggy unfriendly. Bob's dad and he would often visit the dragon in the late 70's and early 80's.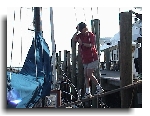 That night, we anchored several miles below Melbourne. As the Indian River Lagoon is not tidal, we had a restful anchorage. The next day we headed to Fort Pierce where we stayed at the Harbortown Marina. Our dock was much higher than our deck (especially at low tide). Fortunately, the marina provided a plank so that we could negotiate the dock. Capt. Ann was not too happy with the situation. Fortunately, the 'kids' were not with us.