---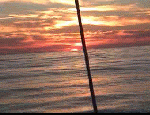 After a week on the ICW, we left the Beaufort (NC) Inlet for an offshore passage to Cape Fear. Our first night presented us a beautiful experience of our first Voyage 2000 sunset. We knew that we had to navigate the Frying Pan Slue to Bald Head Island. Life would go downhill in about 12 hours! Fog, Frying Pan Shoals, and Fear (the three F's) were awaiting us. Check out Chapter 1 for details.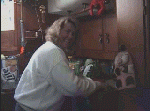 Thanksgiving dinner in Fernandina Beach Marina. Life is good. The crew is mellow; Toby singing(?), Bob computering (work of course), and Ann preparing our Thanksgiving feast. It is amazing what she could do with a two burner stove without an oven. Later we would have Thanksgiving with other cruisers. By the way, we went to Church to thank the Almighty for pulling us out of the 3 F's. It must have worked, we never had serious fog after that.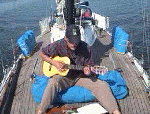 Thanks Ann. She drove Toby to the Pawn Shop outside of Port Canaveral so that he could look at guitars. Guitar!! On a small boat!!! Well, he bought one and started ... you guessed it ... singing. The video clip on the left has an audio track of his singing. Now do you understand? Three more months of this stuff was more than we could endure. Actually, his singing was popular in the Dry Tortugas. Go figure.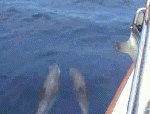 One of the more rewarding aspects of the entire voyage was the abundance of wildlife. We saw hawks, egrets, herons, sea turtles, manatees, Portuguese Men of War, and of course dolphins. We saw dolphins throughout the voyage; the ICW, Atlantic, Hawk's Channel, Florida Straits, and the Bahamas. We saw baby dolphins on the ICW in the Low Country of South Carolina and Georgia. The fellows to the right spent over five minutes following us during our crossing to Gun Cay, Bahamas.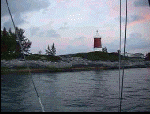 Our trip from the Keys to the Biminis was uneventful but long. We left before sunrise, navigated the reef by 0730, and were in 6,000 feet of water by 1000 (our depth sounder was confused, to say the least). We had to maintain a speed of over 6.5 knots to insure landfall before sunset. The video to left was taken right after the sun set. There were reefs and rocks that we had to avoid (have to see them first). Another half hour and this would have been very difficult!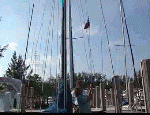 We saw quite a few cheaters! When you arrive in a country, you are required to fly the 'Q' (Yellow) flag until you pass customs. We saw several vessels (that we knew) who didn't bother with this protocol. They simply lowered their 'Q' flag and hauled the Bahamian ensign. We kept our 'Q' flag until we arrived in West End, Grand Bahamas. Bob dressed up in his Sunday best, visited the Customs and Immigration office, and received customs clearance for the Jule III and her crew. Bob and Ann hauled the Bahamian ensign.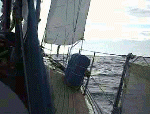 We had an excellent sail across the Florida Straits. We actually sailed. No kidding. It didn't last long as the wind veered into our nose but we really enjoyed it. No noise from the engine, just the sound of wind and waves. We found that motorsailing was the norm. In the ICW, Hawk's Channel, and the Florida Straits, we had to go many miles during daylight. We could not doddle. Motorsailing is good! Sailing is much better. We wished every day was like this day. Actually, we had four days like this going up the Atlantic. This is fun!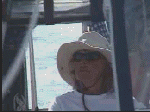 The cruising life, even our part-time version, is a way of life that we will continue to pursue. We have developed many close friendships, an appreciation of a slower paced lifestyle, and a love of the sea (be it Atlantic, Hawk's Channel, Florida Straits, or the ICW). The video to the right is a sample of our life aboard the Jule III. Three people on a 38' floating home for 6 months ... and we didn't kill anyone. Not a bad lifestyle.